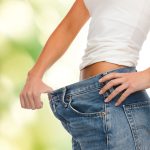 Sometimes all it takes to accomplish something is to change one thing.  If you make one small change in your daily habits you can lose up to 26lbs in a year.
Using the chart below you can see that by drinking one can of Coke a day you will gain 15lbs in a year.  You would have to in-line skate for 20 minutes every day to burn off the 15lbs during the year.
Item                                                                                                      Activity
One can of coke  -140 cals = 15lbs                                           In-line skating for 20 minutes/day
18-20 mini pretzels – 110 cals =11.5lbs                                   75 minutes of kickboxing /week
1 Dunkin Munchkin – 67 cals = 7lbs                                         Clean house for 1hr 45m/ week
1 grande skim latte from Starbucks –  160 cals = 17lbs          1 hr walk 4/week
1 Energy bar – 250 cals = 26lbs                                               Rowing or running 4 hrs/week
By eliminating one thing from your daily food intake you can lose weight over the long run.  Just think if you eliminate the item and do the daily or weekly activity you could lose double the weight over the year.
Holly Kouvo is a certified Personal Trainer, Nutrition Specialist, speaker and writer who specializes in helping people lose hundreds of pounds. Learn more at www.FittingFitnessIn.com.