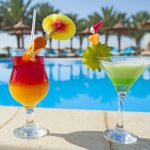 Imagine yourself sitting by the pool drinking a Pina Colada with a fancy umbrella in it.  The reality is you're looking at drinking 490 calories in that 8 oz Pina Colada.
We tend to forget that drinks have calories too.  It's not just the food you eat while you're enjoying that cocktail.  But it's the cocktail itself that's also full of calories.
Here's a run down of some of your popular drinks and the calories associated with them:
Drink                                                  Calories
7 oz Gin & Tonic                               262
7 oz Rum & Diet Coke                     194
3 oz Martini                                      207
Pina Colata Cocktail                        490
Frozen Margarita Cocktail               340
12 oz Beer     (Budweiser)               145
12 oz Light Beer (Bud Light)           110
6 oz Wine                                         158
You need to keep these numbers in mind before you order your drink.  One rule that I have is, if I have a glass of wine which is my preferred drink, I have a glass of water for each glass of wine.  My motto is "A glass of wine, A glass of water".  If you're at home, then you can use a smaller wine glass.  A full glass is less alcohol.  This keeps your alcohol portion controlled.
Holly Kouvo is a certified Personal Trainer, Nutrition Specialist, speaker and writer who specializes in helping people lose hundreds of pounds. Learn more at www.FittingFitnessIn.com.