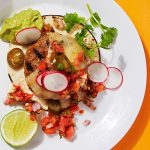 Summer barbecues are upon us. What kind of hamburger are you going to serve? It's time to get creative and grill an alternative burger.  Forget the normal beef hamburger and work on making healthier burgers for you, your family and your guests.
Health magazine this month has an article called "A Better Burger".  It is a great article to give ideas for a variety of healthy burgers. But you don't have to just follow their recipes… you can create your own burger.
Come up with your own "Signature Burger" using ingredients such as salmon, tuna, turkey, veggies, beans, etc.  Let your creativity flow and go for it.
Last night I made turkey burgers with chopped red peppers and thyme. Next week I may stuff them with spinach and/or feta.
Compliment the burgers with tasty toppings and fun side salads.  Use fruit to add color and taste; you'll be able to check off fruit on your healthy eating food log.  Make a healthy sauce to use as a marinade when grilling or to add after the burger is cooked.
Experiment a little and see what you and your family like.  Maybe have a burger challenge with a friend or family member to see who can come up with the best alternative burger.
Holly Kouvo is a certified Personal Trainer, Nutrition Specialist, speaker and writer who specializes in helping people lose hundreds of pounds. Learn more at www.FittingFitnessIn.com.