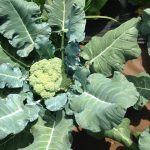 We are enjoying our garden again this year.  After the winter we had here in New England, our garden is reaping the benefit of all the snow that acted as a fertilizer.  We can't pick food fast enough.  The broccoli is huge, as well as the cauliflower.  I made mashed cauliflower last week with a little parmesan cheese and 2% milk; my family loved it.  The snap peas are disappearing fast as our dog Mikka picks them off the garden fence.  We enjoy home grown spices all year round. I will be freezing some of my spices this year along with drying them in the dehydrator.
Our garden started off as a spice garden my husband put in for Mother's Day five years ago. Each year he adds more to it. Now it's huge and I told him he had to stop adding to it.  I can't keep up with it.  "I'm not Betty Crocker," I said.  We have broccoli, cauliflower, green bell peppers, hot peppers, zucchini, squash, tomatoes, basil, thyme and rosemary.  Every meal, I think about how I can incorporate the vegetables in a creative way.
My husband Steve tils the land, sets up irrigation, and lays a ground cover so it is easier to maintain.  After a few years of fighting with sneaky animals getting through and under the fence, he has it secured from the critters.
Having a garden is a great way to get your kids to eat vegetables.  When they help in the garden and see the vegetables grow, they are more apt to eat them.  Make use of your garden this year.
Holly Kouvo is a certified Personal Trainer, Nutrition Specialist, speaker and writer who specializes in helping people lose hundreds of pounds. Learn more at www.FittingFitnessIn.com.