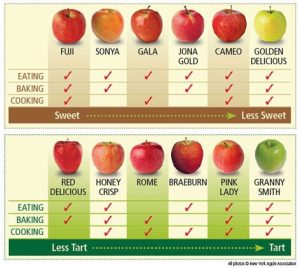 This season I am helping out in the Apple Shop at Shelburne Farm in Stow, MA.  Shelburne Farm is at the end of my street and many of my neighbors help out during the season.  I am amazed at how many different types of apples there are.  At Shelburne Farm they have the following apples (in order of when they are ripe to pick):  Zestar!, Akane, Ginger Gold, Sweetie, Blondee, McIntosh, Gala, Cortland, Honeycrisp, Fuji, Empire, Macoun, Cox's Orange Pippin, Crimson Crisp, Jonagold, Winesap, Red Delicious, Jonathan, Spencer, Mutsu, Ida Red, Northern Spy, Golden Delicious, Candy Crisp, Crimson Gold, Melrose, Spigold, Rhode Island Greening, Baldwin, Braeburn, Golden Russet and Arkansas Black.
Several of these are new this year.  People ask me what the different apples taste like and which are best for pies, apple crisp, apple sauce,  and hard cider.  I found myself researching online and discovered that the old saying "An apple a day keeps the doctor away" also could be "Have a different variety of apple a day and keep the doctor away for almost two years".  I found this website called Orange Pippin that has all the different varieties of apples in alphabetical order.  I counted them and came up with 722 different varieties of apples. Each region grows different varieties of apples.
The Apple Chart you see in this article should help you determine how some of the more common apples taste and how best to use them (ie. eat, bake, cook).
Stop by the Apple Shop and say hi,  I'll be there most weekends.
Holly Kouvo is a certified Personal Trainer, Nutrition Specialist, speaker and writer who specializes in helping people lose hundreds of pounds. Learn more at www.FittingFitnessIn.com.