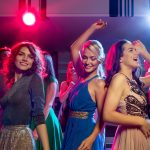 If you are going to be attending those holiday parties, make sure you dance the night away or better yet dance the calories away.  Dancing is a great way to burn calories.
The popular show "Dancing with the Stars" is proof of that.  Joey Fatone of NSync lost six pounds the first two weeks and a total of 20 pounds over the course of the show. He's not alone, former Beverly Hills 90210 actor Ian Ziering has lost 12 pounds; professional boxer Laila Ali dropped 7 pounds; and country singer Billy Ray Cyrus lost 9 pounds.
So get out on the dance floor and move your body.  If you are on the dance floor, you are not in the buffet line.  It will keep you busy so you aren't tempted to eat the calorie ridden foods. You will also drink more water as you work up a thirst.
Okay, maybe you weren't invited to those parties that have dancing.  Then turn up the tunes in your house and dance the night away.  I have one client that uses dance as their form of cardio.  It certainly is more fun than the treadmill.
Just remember to keep moving during this holiday season.  You don't want to be that average person who gains 11 lbs.
Holly Kouvo is a certified Personal Trainer, Nutrition Specialist, speaker and writer who specializes in helping people lose hundreds of pounds. Learn more at www.FittingFitnessIn.com.