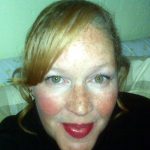 I have done one form of exercise or another for most of my adult life and each venture has been quite successful. Before coming to Zumba I worked out five days a week at a local gym and I felt reasonably fit and strong but I was getting bored, I needed to do something different. I decided to shake it up a bit and took my first Zumba class with Gina. Zumba with Gina is a totally different experience from what I was used to in a fitness program or an instructor.
Gina is not only an exceptional dancer, she is completely joyful while she is dancing and teaching her class. It is her utter delight and smiling face that is so infectious that I find myself smiling too. So much so that I am hardly aware she has worked every muscle group on my body while dancing and singing along to her universal playlist from all around the world.
Gina elevates working out to a different level.  She invites you to play, be silly and work hard; no judgement. It took me two months to be able to shake my hips with gleeful abandonment. You will understand the importance of this simple maneuver, which eluded me, when you take Gina's class. Zumba helped me find my dancer's spirit, my waist, my joy and finally my hips.
Without a doubt Zumba with Gina, is the best fitness routine for a person's body. I gave up my gym membership and now all I do is Zumba a few days a week. My body is in the best shape it has been in years and I discovered a little known fact, joy helps you lose weight.  Zumba with Gina is not just an incredible workout for your mind and body, Zumba with Gina, is a state of mind.