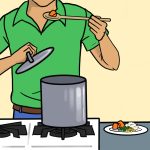 The holiday season presents lots of challenges to your healthy eating habits. Lots of people cook large meals, with multiple side dishes, to share with visiting family and friends. When you're not cooking, you might be baking a variety of seasonal desserts, especially for holiday parties.
Potlucks are especially popular this time of year, so even when you're not the one hosting the dinner party, you'll probably end up making that one particular dish that the whole family loves for Thanksgiving or Christmas (or both).
Cooking up a storm is hard work, and it's not always an exact science, so you may find yourself taste-testing that world-famous casserole as you go, "just to make sure it's right," especially if you're cooking an old family recipe that your beloved Nanna never actually wrote down. Well, unfortunately those calories add up too!
Don't get carried away with taste testing while you cook – a handy way to keep yourself accountable is to keep a plate right next to the stove. When you take a bite, put the same amount of food on the plate immediately afterward. Once you're done cooking, you'll have proof in front of you of how much you ate, and you can adjust what you eat at the meal, as well as log it in your food log.
Remember – when you Log It, you Lose It!
Holly Kouvo is a personal trainer, functional aging specialist, senior fitness specialist, brain health trainer, writer, and speaker.