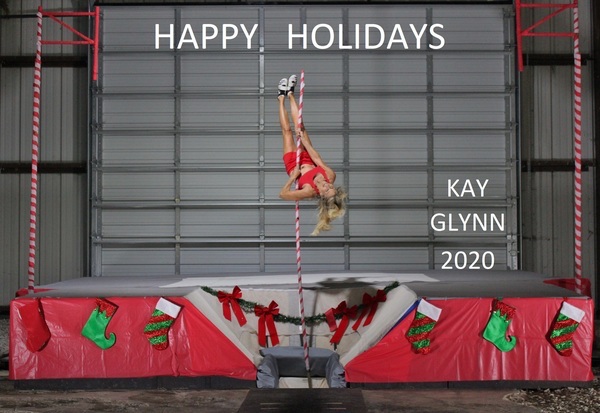 You're never too old to get back to doing the physical activities you used to love.
Just look at Kay Glynn, a 68-year-old grandmother who regained her athletic devotion after she saw other "older" people having fun running on a track.
Back in high school, she had set a long jump record that held for 30 years. But she gave it all up when she got married and started her family.
Now she's back competing, and winning medals, in the USA Masters Track & Field competitions. She won first place in the pole vault, long jump, triple jump and pentathlon last summer.
Before you say, "I don't like track and field" or "I don't want to be a competitive athlete," pay attention to the universal hook.
Here it is.
When Kay's daughter suggested she get back to exercising a few years ago, she first said no.
"My daughter pointed out on the track and said, 'See, Mom. There are old people out there. You can do that.'"
Kay saw the "old people" having a blast among themselves, as if they were in high school again.
"They were chattering and having so much fun," Kay recalls. "I said, 'I'm doing this next year.'"
Anyone can relate to that, right?
Are your kids concerned you don't get enough physical activity? Do you wish you had the spark to return to sports and other interests that used to bring you joy?
Fitness can open all those doors and more, whether you want to:
Golf
Play tennis
Run/jog
Swim
Garden
Dance
Or just play around with the grandkids
Focusing on the Here and Now
Some of us like to look back on the old "glory days" and wish everything could be like it was back then. But Kay knew better when she got back to her training.
"I never looked back at anything I did in high school," she said. "It was a clean slate, a new chapter. When I went to my first (Masters) meet and did the pole vault for the first time and the shot put and the high jump and hurdles in the heptathlon, I was just so excited to be involved. There was no looking back."
Her comeback to sports would not be derailed by arthritis in her hips, either. One representative at a prominent clinic counseled her to "find a new hobby" because of their condition.
Instead, she found a new doctor who resurfaced her hips, one in 2013, and the other in 2016. She lost none of her flexibility with the two procedures. Now she's determined to keep looking ahead, inspired by people like Julia "The Hurricane" Hawkins, who recently set track and field records for her age group.
"I saw the woman who was 105 (Hawkins) and still competing, so I want to go that long," she says.
And that's not for a good while: More than 30 years!
Come talk to us about what you want to be doing. We'll help you get there.
Holly Kouvo is a personal trainer, functional aging specialist, senior fitness specialist, brain health trainer, writer, and speaker.