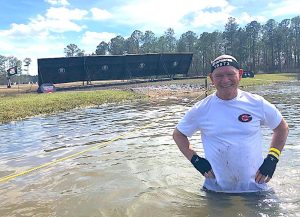 What sounds like a perfect way to celebrate your 75th birthday?
For Jerry Mathis, it wasn't about cake or resting by the pool.
Jerry ran his first Spartan race, instead. It was a 5k course with 20 obstacles like climbing over walls, shimmying up ropes, and trekking through swampy land.
Sound like fun to you?
"I loved it!" says Jerry, a retired telephony and IT coordinator. "Every time you get through something, there's another challenge you have to go through. At 75, I don't have that many obstacles, so I enjoyed it.
"I have friends who brag when they make it from the bed to the couch. I think, 'No, that's not living.'"
A fit life with a family-related goal
Jerry started working out in his late 20s when he was a teacher and students bought him a gym membership and sessions with a trainer. They felt he was too skinny at 5'6" and 130 pounds. He didn't argue, and he hasn't looked back.
For the last few years, he and his trainer picked a goal around his birthday. He settled on the Spartan race after overhearing a group of police officers who work out at his gym. They had completed one, and Jerry thought it sounded like fun.
His trainer got him ready by working on his core, legs, balance, strength, and agility — all necessary for the demanding course.
They initially picked a race for last fall, but it was canceled because of the pandemic. Still, Jerry kept up his workouts, even when it meant training virtually. He briefly had Covid-19 in the fall but made a full recovery.
"I'm a little stubborn and very competitive," he says.
He's also motivated by the memory of a relative who died some 40 years ago.
"She lived to be 107 years old. My goal is to outlive her by one day," he says. "It's silly, but it keeps me going: Can I make it to where Aunt Emily was?"
Just keep moving, he says
Jerry's advice to other people in his age group is simple: Move.
"Every day, move. Do something — work out, walk, run, ride a bike. Whatever it is — get up and move throughout the day."
More than 8 million people have participated in Spartan races since the company was formed in 2010 to encourage holistic health. It now puts on 250 events annually in more than 40 countries.
"Some people are at the beginning of their fitness journey and some are elite athletes," Spartan says.
Jerry finished 43rd of 255 competitors over 60. He didn't like being lumped in with all those youngsters, but says he was competing against himself, anyway. He's planning another in October.
"It was fun," he says. "And I know I can do better."
We can't wait to see how he celebrates turning 76!
Holly Kouvo is a personal trainer, functional aging specialist, senior fitness specialist, brain health trainer, writer, and speaker.