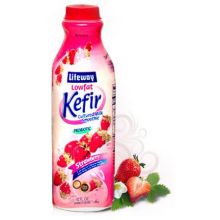 According to www.Kefir.net:
"Kefir is a cultured, creamy product with amazing health benefits.  Kefir's tart and refreshing flavor is similar to a drinking-style yogurt, but it contains beneficial yeast as well as friendly 'probiotic' bacteria found in yogurt. The naturally occurring bacteria and yeast in kefir combine symbiotically to give superior health benefits when consumed regularly. It is loaded with valuable vitamins and minerals and contains easily digestible complete proteins."
I usually buy a case of kefir at BJ's wholesale club and drink one a day.  It is handy to drink in the car as one of my snacks for the day.  The one I drink is 99% lactose free.
What is the difference between kefir and yogurt?  Both kefir and yogurt are cultured milk products but they vary in the beneficial bacteria they contain.  Kefir contains strains of friendly bacteria not found in yogurt that aid in digestion and also eliminates pathogenic yeasts in the body.  It strengthens your intestines and makes them more resistant to pathogens like E. Coli and intestinal parasites.
Kefir is a strong probiotic.  Have you ever followed a link on Facebook to a long video presentation that talking about the best foods to eat for weight loss, only to find at the end that they were trying to sell you probiotic pills? I have and the only food they talk about being a good probiotic is kefir. Kefir is also rich in Vitamin B12, B1, and Vitamin K.
You can make a "smoothie" using kefir for breakfast and drink it on the go.  It contains complete proteins and reduces bloating which may promote weight loss.  I would not stand by that claim; however the health benefits of kefir are numerous.
Give kefir a try, your body may thank you.
Holly Kouvo is a certified Personal Trainer, Nutrition Specialist, speaker and writer who specializes in helping people lose hundreds of pounds. Learn more at www.FittingFitnessIn.com.