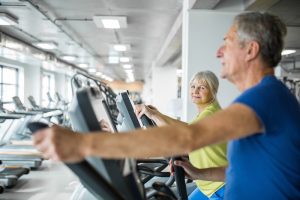 For some reason, we all started thinking we had to take 10,000 steps a day for good health. It seemed to take hold when fitness trackers became popular, and we all were talking about "getting my steps in" every day.
Well, despite some questions over the years about the validity of that number, new scientific studies say that, indeed, we do need about that many steps a day to get the most health benefit.
A study published in JAMA Neurology found that walking 10,000 steps a day was linked to less cardiovascular disease – including heart disease, stroke and heart failure – plus 13 types of cancer and dementia.
And a sister study found that for every 2,000 steps a day you take, you could lower your risk of premature death by 8 to 11 percent. That research was published in the journal JAMA Internal Medicine.
Both studies involved about 78,500 participants, all middle age and older, who wore a device on their wrist to measure physical activity and whose health was monitored for a median of seven years.
Still, the new research says you don't have to take that many to get health benefits. For example, 9,800 steps lowers the risk of dementia by 50 percent, the research suggests, but taking just 3,800 a day lowers it by 25 percent. Increasing the intensity brings more benefits.
So, there you have it: Get stepping!
Holly Kouvo is a personal trainer, functional aging specialist, senior fitness specialist, brain health trainer, writer, and speaker.