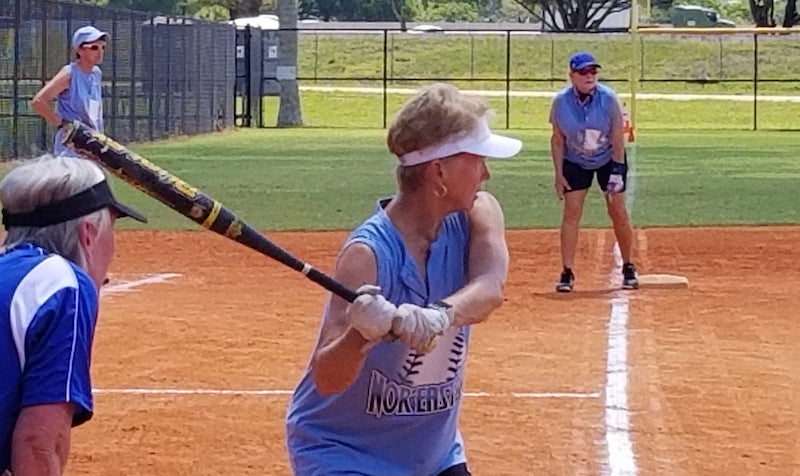 Barb Markelz is one of those people who personify the belief that movement is the key to healthy, happy living.
We couldn't agree more!
Barb spent her career teaching physical education, always moving and instilling movement as a value in her students.
Now retired at 68, Barb has no plans to stop now.
"Movement is my way of life," says Barb. "I just think that the brain and the body are connected. And anytime you get moving it jump-starts everything. Every day I move, I sleep well."
She should be sleeping even better lately, after the path she cut at the National Senior Games in Fort Lauderdale, Florida. Barb entered four events — power walk, basketball, pickleball and softball.
Her mom, also a retired phys-ed teacher, competed in pickleball at 90. So did Barb's husband.
Movement runs in the family in a big way.
In the last National Senior Games three years ago, Barb, her mom, her husband, and all four of Barb's siblings competed.
150 Minutes A Week, At Least
Barb, and the other 12,000 athletes at the National Senior Games, don't fit the mold of aging.
They're too active.
Most people simply don't move enough, let alone people later in life.
The World Health Organization urges everyone to get at least 150 minutes a week of moderately strenuous cardio exercise, or 75 minutes at a vigorous pace. Experts also say everyone needs at least two strength-training sessions a week.
The Centers for Disease Control and Prevention adds "activities to improve balance such as standing on one foot" about three days a week.
"Older adults should move more and sit less throughout the day," the CDC says. "Keep in mind, some physical activity is better than none. Older adults who sit less and do any amount of moderate-to-vigorous intensity physical activity gain some health benefits. Your health benefits will also increase with the more physical activity that you do."
Barb keeps proving that.
Discovering Strength Training
She's always been athletic, playing basketball and field hockey as a youth, and competing in previous National Senior Games.
But she had never practiced strength training until this year, when she and her husband began using a personal trainer for the first time.
She says she's glad she did.
"I never lifted at all in my life," she says. "I didn't know anything about strength training. I decided in February that I really needed to get ready for these Games, and swimming was not doing it.
"The trainer is teaching us stuff we never knew, and it has made a big difference here for me."
Just keep it moving, Barb says.
That's the secret.
"The older I get the happier I get," she says. "When I'm 70, I'll be happier than now because I'll be the babe (in the 70-74 cohort). And when you're the youngest in the next age group, you kick butt."
Moving on UP!
Holly Kouvo is a personal trainer, functional aging specialist, senior fitness specialist, brain health trainer, writer, and speaker.