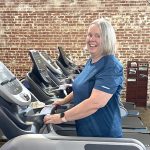 Mary Frances Benton, 59, knows it will take some time to lose 40 pounds. But she's already down 15 since February, so her spirit is strong.
She's also done this before.
About 10 years ago, Mary Frances noticed that she was gaining weight. There wasn't a main reason she could cite, so she went to a friend's gym and asked for a trainer.
Within a month, she was feeling better – stronger, and with more endurance.
But an out-of-nowhere stroke seven years ago took its toll. So has the pandemic – Mary Frances didn't make it to her gym during lockdown.
But now, since returning in February to work with the same trainer she knows and loves, Mary Frances is slimming down and feeling great.
"I have a Peloton at home, but I prefer coming to the gym," she says. "I know he's going to push me, and I need that."
42% Gained Unwanted Weight During Covid
She's not alone.
The American Psychological Association reports that 42% of adults gained unwanted weight during the pandemic. Lockdowns made it harder to eat right and exercise, and many of us were stressed out, which contributes to weight gain and a bunch of other health issues.
For Gen Xers (ages 43-56), the average weight gain was 21 pounds.
For Boomers (57-75) it was 16 pounds.
And for people 76 and over, fully one-fourth reported undesired weight gain.
More Americans than ever are obese – 42.4 percent, according to research. Obesity and age are two of the main factors contributing to deaths of people who become infected with the coronavirus.
Conventional wisdom has told us that our metabolisms slow down as we age. But new research in Science suggests that simply isn't true. To feel more energetic, we can stop focusing on age and focus instead on lifestyle choices we can control – like exercise, eating right, managing stress, and getting enough sleep.
Resistance Training Is Key
Ditch the diet sodas for water. Get plenty of sleep every night. And move your body purposefully throughout the day, not just at the gym.
Also important: resistance training. Or you can call it strength training or even (gasp) weightlifting! Whatever term you prefer, it's essential to health and maintaining a proper weight after 50.
And, no, women don't need to worry about getting bulky.
Just ask Mary Frances, who loves weightlifting more than running (and she's run two half-marathons).
"Unless you take steroids, it's just not going to happen," she says. "When I first started working out, I was going thru perimenopause. The weightlifting really helped with mood swings. I prefer it to cardio."
She's looking forward to an adults-only trip to Disney World with her husband and two grown sons. And the exercise is all a part of her plan to live well, which includes losing the weight.
"I'm going to keep doing this and keep eating right," she says.
Say hi to Mickey for us, Mary Frances. And keep up the excellent work. You're inspiring other mature adults to seek help with living a better lifestyle.
We're here to help YOU, too. Come see us today.
Holly Kouvo is a personal trainer, functional aging specialist, senior fitness specialist, brain health trainer, writer, and speaker.