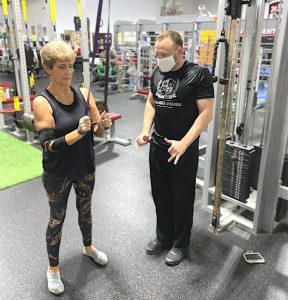 In the world of older women taking control of their health, Vera Teachout, 65, and Cheri Hunt, 73, are myth-busting superstars.
They work out several times a week with weights, machines, and cardio to stay strong and flexible in their retirement.
They are remarkable for doing so well what should be less remarkable in our society: Exercising regularly to improve their health and quality of life.
If stereotypes say white-haired women shouldn't lift weights, these two show just how ridiculous that is. They both found success with a "Forever Fit" program designed to encourage mature people to challenge themselves with effective, challenging workouts in a friendly environment.
Vera started working out a few years ago when she noticed her golf drives weren't going as far as they used to go. And she'd get tired doing household chores. Visiting her grown daughters for walks in Chicago and New York caused her back to hurt.
Vera, above, wasn't having any of that.
'It's all about improving what you can do'
"I went in and thoroughly loved it," she says. "The other people were in the same age bracket. The staff was very welcoming. There was no judgment. It's all about improving what you can do, not competing with others."
Her golf swing came roaring back. So did her confidence with the tasks of ordinary life, like putting away groceries and getting out of the car. 
When the pandemic hit, the gym – Summer's Fitness – Forever Fit in Ohio – offered virtual training. It followed strict safety protocols upon reopening. Now members can participate in person or from home, even when that home is a snowbird residence in Florida.
When her new pants didn't fit
Cheri lives in Florida in the wintertime. Nothing has deterred her from her fitness dedication.
She was 40 pounds heavier and had trouble moving around before she started working out regularly. She'd been active earlier in life, but then being a working, single mom of three led to decades of inactivity and poor eating habits.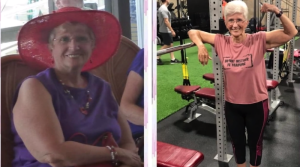 Finally, she had her own "aha" moment: New pants didn't fit.
That was that, for Cheri.
Now a few years later, her strength, weight and balance are improved. She loves bowling. And she's recovered from the pain suffered when she fell while line-dancing.
"I love the leg press machine," she says. "That's my favorite. And the coaches are not like drill sergeants. They guide and coach you, and get you to try to lift more weight when the time is right."
Bust some myths of your own
These two women are great examples of the powerful lifestyle changes available to anyone at any age who's willing to join the right gym or studio and commit to working out consistently.
Come talk to us about your goals, our programs (in-person and online), and our commitment to your health and safety during the pandemic and always.
Believe it or not, you have more tools and flexibility than ever before. So give us a call – and let's start busting some myths today.
Holly Kouvo is a personal trainer, functional aging specialist, senior fitness specialist, brain health trainer, writer, and speaker.