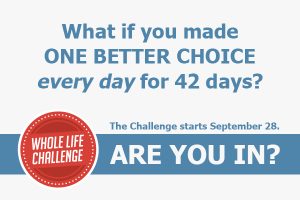 The Fall is a great time to get back into a routine of eating healthy and exercising.
Why not make a goal and be accountable to reach that goal.
Here is a way to make healthy changes in your life and have fun doing it. The Whole Life Challenge (WLC) is a way to achieve your goals along with others, and maybe add a little competitive fun along the way.  Join with a friend or two and keep each other accountable.
What is the Whole Life Challenge?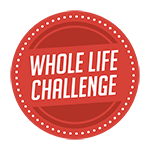 It is an online challenge that focuses on 7 Daily Habits:
Nutrition
Exercise (10 minutes a day)
Mobility
Hydration
Sleep (more sleep is my goal!)
Well-Being
Reflection
YOU get to choose your goals for each daily habit.  YOU choose a level of Nutrition and are provided with the food list for that level.
This video gives a great explanation of the challenge and the 7 Daily Habits you will focus on.
What better way to stay on track for 6 weeks before the holidays?  As you move through the challenge, you will earn points for yourself and the team.  All of this will be tracked for you online.
I want to be there for YOU and will keep you motivated daily with motivational messages.
Doing some traveling this Fall?  No problem, you can do the WLC from any location with internet access.  You can be local or you can be hundreds (or thousands) of miles away and still feel like you are part of a team.  You are not alone in this challenge.
Anyone can participate, whether you are just starting out on your health and fitness journey or you are a regular in my fitness classes and want more accountability to keep on track.
The WLC starts on September 28th, but don't wait to register.
Join my team now!  Click here to register.
Holly Kouvo is a certified Personal Trainer, Nutrition Specialist, Functional Aging Specialist, speaker and writer.