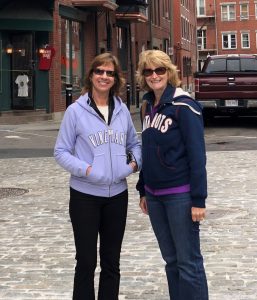 We all like to think we can accomplish things on our own, but sometimes we need others to hold us accountable.
I am a very motivated person. I get a lot accomplished.  I also realize that since I am working on my own, I need someone to be accountable to.  I have belonged to a few different Mastermind groups that kept me accountable to the other members. Through one of these groups, the Be Better Project, I met Dianne Bailey. Dianne is a fellow personal trainer who lives in Denver, Colorado.  We have been accountability partners for almost 10 years.  We have a phone call every 3 weeks and discuss our goals that we want to achieve, review what we have accomplished, discuss ideas together, and hold each other accountable if we didn't accomplish what we said we were going to.  We coach each other.  We do get together in person every few years and see each other at industry events.  My husband Steve and I are going to Denver this month to visit with Dianne and her husband Jim, and they came to visit us two years ago.
When I work with my clients, I am not just their coach, I am their accountability partner.  If they are an online client, I keep track of their food logs, the workouts they have checked in, any issues that may have come up and I call them on it.  If I don't see any activity from a client in a few days, I will email and ask if something is going on that is preventing them from exercising.  They know I am keeping track of them.  If they are a one-on-one client, I am seeing them every week and keeping them accountable.
One of the reasons I choose to have a team in the Whole Life Challenge is because people need to be accountable to the team by writing a reflection every day.  I can tell you, that is why my husband and myself got the results we did in the last Challenge.  There is something to be said for having to rate how you are doing every day and then having to tell the whole team how you did.
By the way, you can still join the Fitting Fitness In® Team for this Whole Life Challenge through October 9, 2019.  Click Here if you want to join my team!
If you don't have an accountability partner, this article details six reasons why you may want to get one.  They are:
You will get an extra push that you need in your business.
You will have someone to bounce around ideas with.
You will have someone to stay accountable to.
You will have someone to share accomplishments with.
You will have someone who can be totally honest with you.
You will drastically increase your productivity.
If you would like to work with me online and have me as your coach and accountability partner, just email me and we'll get started.
Holly Kouvo is a certified Personal Trainer, Nutrition Specialist, Functional Aging Specialist, Brain Health Trainer, speaker and writer.