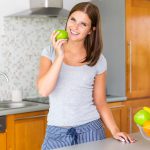 We've all experienced the Snack Attack.  That's when you need a snack and you grab what ever is handy to eat.  Most likely it isn't the healthiest snack.
Here are some tips on being prepared when the attack hits:
If the snack attack hits you at work, have some healthy snacks in your desk like whole wheat crackers, mixed nuts (practicing portion control), or a piece of fruit to help you through it.
We should take advantage of the summer fruit for snacks.  The various melons are great snacks.  The key is to cut up the cantaloupe, melon, or watermelon when you get it so that you just need to dish it out when you're hungry.  If you wait until you're hungry to cut up the melon you will be less likely to eat it.
Have the fruit out on the table so it is the first thing you see when the attack hits.
If you are in the car when the attack hits, have some of the 100 calorie snack packs handy. They are portion controlled and are convenient.  I also like to have the 90 calorie granola bars in my car as well.
If that snack has to involve chocolate, well I like to keep some of those little DOVE chocolate squares around at 50 calories each just for that need.
Keep water bottles handy so that you don't end up hitting up the soda machine.
The key is to be prepared for the Snack Attack before it hits.
Holly Kouvo is a certified Personal Trainer, Nutrition Specialist, speaker and writer who specializes in helping people lose hundreds of pounds. Learn more at www.FittingFitnessIn.com.