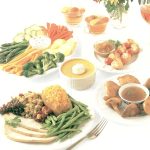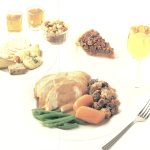 Most of us will indulge in a big Thanksgiving meal on the 23rd of November this year.   The choices you make will determine how many calories you ingest.  The typical Thanksgiving meal on the right contains 3,710 calories.  The Thanksgiving meal on the left is only 930 calories.  You can still enjoy a Thanksgiving meal and don't have to pay for it later with a lot of exercise.
The alcohol in meal 2 totals 530 calories, the alcohol in meal 1 is only 100 calories.  The turkey in Meal 1 is 4 oz of white meat (200 cals) and on Meal 2 it's 6 oz of light & dark meat with skin (360 cals), add another 120 cals for 4 Tbsp of gravy.
Appetizers can be heavy on fat and calories.  The pastry hors d'oeuvres, cheese, pate' and crackers total 920 calories whereas the assorted vegetables with low-fat dip total 60 calories. We can't forget dessert!
One piece of pecan pie in Meal 2 is 680 calories.  One cup of pumpkin custard is 150 calories.  Remember it is the flour that makes up a lot of the calories in the pie.
I want you to make wise choices when you eat your Thanksgiving dinner this year.  Of course a nice long walk after dinner will help to burn those calories off.
Happy Thanksgiving!
Holly Kouvo is a certified Personal Trainer, Nutrition Specialist, speaker and writer who specializes in helping people lose hundreds of pounds. Learn more at www.FittingFitnessIn.com.