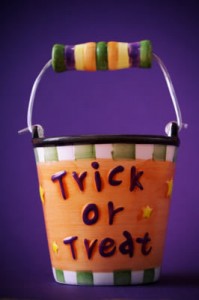 Halloween is often when the dieting downfall begins. Denying yourself sweets isn't the answer. Making smart choices is.
I recommend to my clients to buy the candy on Halloween day.  This way there won't be candy in the house to  tempt you.  It may also be a reduced price by then.
When you do buy candy I always recommend you buy a candy you don't like and you won't be tempted, but if that doesn't work for you than read some of the tips below to make a smart choice:
Three Muskateer Bars can satisfy a chocolate/candy craving but at a smaller calorie cost than a Reese's Peanut Butter Cup
Hard candies can help curb sugar cravings and you can savor them as well (and sugar-free ones taste good too).
A box of Dots is a better choice than a Baby Ruth (less fat, fewer calories).
A small dark chocolate bar actually has health benefits as long as you don't overindulge. Studies have shown that the flavonoids in dark chocolate can lower blood pressure and cholesterol.
When choosing any candy, the "bite size" will satisfy your craving without all the calories of a "full size" candy.
Snack size alternatives:
| | |
| --- | --- |
| Fun Size Starbursts (2 candies) |   40 Cal; 1 g fat |
| Mini Peppermint Pattie |   47 Cal; 1 g fat |
| Tootsie Pop |   60 Cal; 0 g fat |
| Snack-size Junior Mints (6-7 candies) |   60 Cal; 1 g fat |
| Individually Wrapped Twizzlers (1 piece) |   40 Cal; 0 g fat |
| Hershey's Kisses (2 candies) |   50 Cal; 2 g fat |
Holly Kouvo is a certified Personal Trainer, Nutrition Specialist, speaker and writer who specializes in helping people lose hundreds of pounds. Learn more at www.FittingFitnessIn.com.