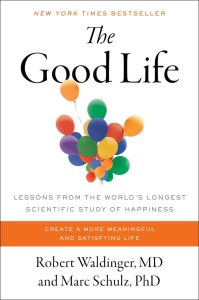 "What keeps us healthy and happy as we go through life?"
That's not just one of the most persistent questions of humanity. It's also the opening to one of the Top 10 TED Talks ever, viewed 42 million times, by a Harvard longevity researcher and co-author of a new book, "The Good Life: Lessons from the World's Longest Scientific Study of Happiness."
Is the answer fame? Fortune? Working hard to achieve status and power?
Nope. Not according to Dr. Robert Waldinger's video and the new book, based on decades of research.
It's relationships of all kinds. Marriages, children, friends, community ties, religious involvement… it doesn't matter, he says.
"Good relationships keep us happier and healthier – period," he says. "Social connections are really good for us, and loneliness kills. People who are more socially connected are happier, physically healthier, and they live longer."
He and co-author Marc Schulz run the Harvard Study of Adult Development. The study has followed the lives of two generations of people from the same families for more than 80 years, starting with 724 individuals back in 1938.
Among the encouraging news: We can improve our individual relationships and our general social connectedness, the authors say, even later in life.
That's one of the great blessings of joining us here for regular exercise. Gyms and fitness studios provide a powerful level of social interaction and support. This is particularly important for people trying to get or stay fit after 50, when so many face empty homes and isolation.
Join us! Exercising with us is good for your body, yes – but so much more.
Holly Kouvo is a personal trainer, functional aging specialist, senior fitness specialist, brain health trainer, writer, and speaker.