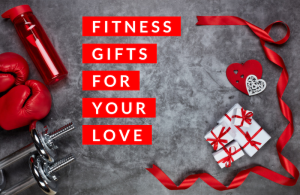 When it comes to Valentine's Day gifts, anybody can come through with a box of chocolates and some red wine.
Not that there's anything wrong with either one! But… wouldn't you be showing a more supportive love with a fitness-related gift to keep your sweetie encouraged?
Here are a few ideas to get you thinking in the right direction!
The Etsy artisans have tons of clever, unique gifts, and you can personalize many of them. Enter the rabbit hole here.
Put together a gift basket of healthy snacks and supplements that match your beloved's diet or lifestyle. This could be a ton of fun to put together.
A water bottle that also stores phones, keys, wallets, etc.
A couples massage – or massage oil to use at home.
Sexy nightwear. From silky lingerie to plain white boxers, the options are endless.
An upgrade at the gym. Get your S.O. a session, or several, with a trainer, for example.
Order a big bunch of healthy fruit, starting with Edible Arrangements. They have some beautiful Valentine's Day packages.
Any of the standbys, like leggings, socks, or a new yoga mat.
And finally, a gift that costs nothing: Your support and encouragement. If your partner is fit or trying to get started, then offer all your support. Nothing says, "I love you" more than "Let's stay healthy for each other."
Holly Kouvo is a personal trainer, functional aging specialist, senior fitness specialist, brain health trainer, writer, and speaker.