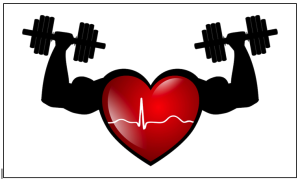 Remember in your 20s, when only bodybuilders wanted to lift weights?
But now, we know that strength training is essential for all kinds of people over 50 to maintain health, daily function, and independence.
Since February is American Heart Month, we want to focus on its role in heart health.
Heart disease is responsible for 1 in 4 deaths and 735,000 heart attacks annually in the United States, according to the U.S. Centers for Disease Control.
As we age, hearts get smaller and weaker, and major arteries can stiffen. That reduces or slows blood flow.
The good news: Heart disease can be prevented. Exercise and eating right are the top tools.
Strength training includes weightlifting, body-weight training, yoga, etc. – anything that provides resistance to stimulate muscle. Here are 5 ways it's good for your heart.
It lowers your blood pressure.
And your cholesterol.
Strength training battles obesity, thus preventing numerous heart problems.
It has a greater effect on heart health than running, walking, or cycling, and boosts the circulatory system because the "oxygen expenditure" is more intense.
And it reduces levels of triglycerides, a type of fat found in your blood. High triglycerides may contribute to the hardening of the arteries — which increases the risk of stroke, heart attack, and heart disease.
We're here to show you healthy, fun, and effective ways to practice strength training. Talk to your doctor about your heart health.
Sources: American Heart Association, British Telegraph, WebMD
Holly Kouvo is a personal trainer, functional aging specialist, senior fitness specialist, brain health trainer, writer, and speaker.