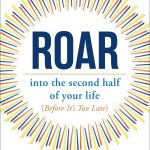 In the second half of life, we're often told to slow down and lower our expectations. After all, as the thinking goes, we can't do what we use to do, so why try to be happy, productive or fulfilled?
Well, you know we don't believe that here. We're all about helping everyone be fit and strong to enjoy life on their own terms for as long as possible. Whether that means extreme sports, "everyday" life, or something in between – it's up to you.
Now, a new book is out that dares us to crank up the energy: "Roar into the Second Half of Your Life (Before It's Too Late)" by publishing executive Michael Clinton.
That's a powerful word, isn't it? ROAR. Clinton uses it to outline his four-part guide to "identify fresh goals and take meaningful action to achieve a purposeful life." They are:
Reimagine yourself
Own who you are
Act on what's next
Reassess your relationships
It's not about just having enough money to do whatever you want, Clinton said on the Friends Talk Money podcast. For Clinton, 67, it has meant running marathons on every continent, launching a foundation, and earning a master's degree.
His message is simple and strong: Let's take risks, try new things, and pursue fulfillment – regardless of our age.
Talk to us about your physical fitness and eating habits so we can help you keep roaring.
Holly Kouvo is a personal trainer, functional aging specialist, senior fitness specialist, brain health trainer, writer, and speaker.