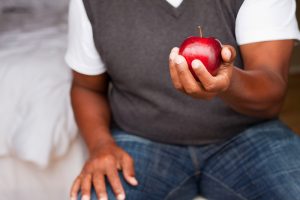 Everybody likes a bite between meals sometimes. And there's nothing wrong with it, as long as you make healthy choices and don't overindulge.
Highly processed foods tend to be high in fat, salt, and empty carbohydrates, so avoid those. Get some fruits and veggies in there, protein, and a little healthy fat.
Here are 10 that are just as easy as a candy bar.
A hard-boiled egg packs protein but is low in fat and carbohydrates. They're easy to make in advance for a convenient bite.
Toast with avocado or peanut butter gives you whole grains, protein, good fat, and not too much of anything bad for you. Just make sure you're using good bread.
Veggies, pita bread, and hummus – a light and flavorful favorite.
Mix up a protein shake and toss in some berries.
Cheese and (clean) crackers. Again, make sure you get crackers that aren't jacked up with salt, sugar, and other ingredients.
Fruit, fruit, fruit.
Plain Greek yogurt. You can mix in berries or nuts.
Nuts and seeds are full of nutrients protein, fiber and good fat, and can reduce the risk of heart disease and other problems.
Slices of cucumbers, red peppers, and other vegetables.
Handy cheese snacks are available at your grocery store. Or buy blocks and slice of a piece.
See? You don't need that candy bar at all.
Holly Kouvo is a personal trainer, functional aging specialist, senior fitness specialist, brain health trainer, writer, and speaker.