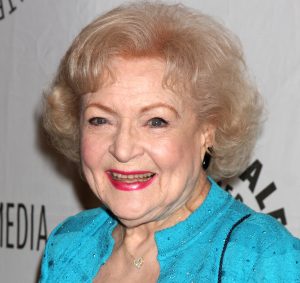 National treasure Betty White recently turned 99 years old. And since almost everyone wants to get within striking distance of a century on earth – and since ABSOLUTELY everyone adores Betty White – let's see what longevity tips we can get from her and experts.
After all, she's been famous for longer than most people live. So who's going to argue?
Stay positive. "Enjoy life," says the "Golden Girls" star. "Accentuate the positive, not the negative." And, in fact, research backs this up. Having a good attitude can add years to your life.
Keep your humor and perspective. "Don't take yourself too seriously," she says. "I try to see the funny side." Again, research backs her up. Laughing and smiling release all kinds of good-for-you reactions in our bodies and brains.
Volunteer your time and passion. White is well-known for her love of pets and activism for animal rights.
Embrace the aging process. It helps keep our attitudes positive. And look what it did for Betty? She started "Golden Girls" in her 60s.
Stay active. Betty provided the voice of "Bitey White" in "Toy Story 4" just two years ago. "You just keep plugging away," she says. "You don't give up."
More people are living to 100 than ever before, and life expectancy keeps getting longer. In 2015, some 72,000 Americans were centenarians – up from 50,000 in the year 2000.
In addition to Betty's tips, we can live longer and better in general if we eat the right foods, manage stress, and exercise regularly.
Who's your role model for extreme longevity? Would you like to live to be 100? Let's talk about it!
Holly Kouvo is a personal trainer, functional aging specialist, senior fitness specialist, brain health trainer, writer, and speaker.