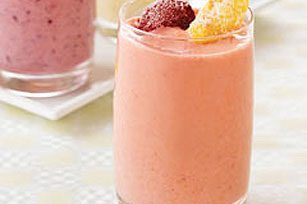 Breakfast is the most important meal of the day. Not only does it rev up your metabolism but it helps you to regulate your weight. It does this by reducing your hunger later on in the day while also aiding you to start making healthy choices earlier. Personally, on the days that I do not eat breakfast I feel that my energy level is low and I do not feel like participating in physical activity.
My favorite thing to have for breakfast is a fruit smoothie. There are numerous ways and recipes out there but I prefer to use Chobani non-fat greek yogurt along with frozen berries (raspberries, strawberries, blackberries, and blueberries) from Trader Joe's to make my morning breakfast. Sometimes I will add some chocolate or vanilla protein powder, orange juice, or skim milk to mix things up a bit!
The best part about breakfast smoothies is that you can take them "on the go." Whether you have to leave your home early to get to work or you have a full day planned with bringing your children to different places, the smoothie can go with you! Due to the always going lifestyle that many of us have adopted I typically make my smoothie the night before then leave it chilling in the fridge over night.
This becomes the best of all worlds. Not only do I get a healthy, and yummy breakfast but I do not have to deal with the hassle of making it while I am trying to get out the door! It becomes a nutritious, easy, and fun way to enjoy your breakfast. Whether you mix it up with different types of fruit, flavors of yogurt, or putting a twist in with juice, you are bound to find the perfect smoothie recipe that fits your taste buds.
Stefanie Turner, Personal Trainer at Fitting Fitness In.