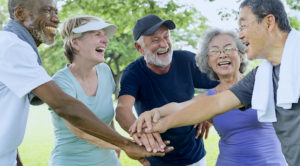 When it comes to fitness over 50, some topics are just timeless and deserve our constant attention. These four subjects are not only relevant but also crucial, whether you're considering starting a fitness routine or you're already on your fitness journey.
No. 1: The Importance of Muscle
If you want to age gracefully, maintain your quality of life, and enjoy independence, then strength training is non-negotiable. Interestingly, there's a generational divide when it comes to awareness. Many people over 60 may not fully grasp the significance of strength training because fitness didn't enter mainstream culture until the early 1980s.
Before that, the only people associated with "weightlifting" and "muscle" were bodybuilders, often portrayed as a freak show. But for decades now, we've known that everyone needs muscle just to function. As we age, our bodies naturally lose muscle, leading to weakness, frailty, reduced mobility, falls, and the stereotypical "just getting old" troubles – unless we practice strength training via weightlifting, yoga, or other methods.
No. 2: Maintaining Brain Health
Reduced brain function isn't inevitable, either. Research has highlighted the connection between physical activity and brain health. We have the tools to maintain and even improve our brain function as we age.
Physically active individuals are less likely to lose mental function and have a lower risk of developing Alzheimer's disease. And regular exercise helps combat other Alzheimer's disease risk factors, including depression and obesity.
The UK's Alzheimer's Society says, "Regular physical exercise appears to be one of the best things you can do to reduce your risk of getting dementia."
No. 3: Protein and Hydration
As we age, our nutritional needs evolve. We tend to eat less, even as our need for protein becomes more critical. Don't wait till you're hungry to eat. Keep a schedule. And consume enough protein for energy and muscle maintenance.
Hydration is equally crucial. It affects cognitive function, arthritis, joint pain, and overall well-being. Drink plenty of water – and "eat your water" by consuming fruits and vegetables loaded with it.
No. 4: Combating Loneliness
The U.S. Surgeon General recently sounded the alarm about an epidemic of social isolation, with 1 in 2 adults reporting loneliness. It's especially prevalent among older people, often due to the loss of life partners, distant children, and reduced interactions associated with jobs.
Loneliness can lead to sleep problems, increased inflammation, reduced immunity, and other health issues. It's linked to pain, insomnia, depression, anxiety, and a shorter lifespan.
Being part of a fitness community can alleviate loneliness, regardless of age. It provides accountability, social engagement, and a higher chance of achieving your fitness goals.
These Fantastic Four topics are vital for healthy aging. Let them guide you as you start or re-focus your fitness journey! Remember, we are here to talk it out and help in any way possible.
Holly Kouvo is a personal trainer, functional aging specialist, senior fitness specialist, brain health trainer, writer, and speaker.