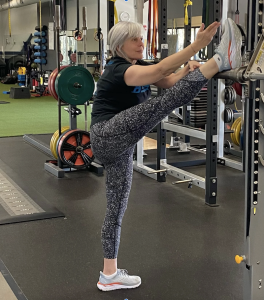 Karen Adams, 63, is an art teacher who works hard to stay in good shape. How and why does she do it?
Q: What's unusual but helpful about your workouts?
A: "I have predictable inconsistencies in my workout schedule. For 4 or 5 weeks, I will work out with my trainer twice weekly, do the elliptical machine 3-4 times a week, and take my dogs on brisk walks 4-5 days a week. But interruptions inevitably happen. I always get back in the groove as soon as possible."
Q: What does working out regularly do for you in daily life?
A: "I am a professional artist. I draw, paint, sculpt and teach drawing class. My work is physically demanding: moving around easels, bags of clay, large props. The older I get, the more adamant I am about maintaining strength and flexibility. I know a lot about the body, but I've learned so much about specific muscles from my trainer."
Q: What's a story about your fitness surprising someone?
A: "I can't help it — I'm as vain as they come. There is no doubt in my mind that a lifetime of being involved in physical fitness has contributed to my youthful appearance. I'm pleased when someone is surprised at my age. And my favorite anecdote came from my son's 25-year-old girlfriend when she was following me up the stairs, said, 'My gosh, Karen, you have a really nice bottom!'"
Holly Kouvo is a personal trainer, functional aging specialist, senior fitness specialist, brain health trainer, writer, and speaker.