On occasion you will see emails from me talking about online summits, docuseries, mini series and conferences.  I only send information on the ones that I feel will interest my clients or ones that I am speaking in.
I am picky about what I am willing to email you about.  If you see an email about one of these and it does not interest you, you do not have to read it.  I would hate to lose you because I thought you might be interested in something and you aren't.  Please read the ones you are interested in and don't read the ones you aren't.
The Thyroid Secret Docuseries that will take place on March 1 – March 9, 2017 is somethin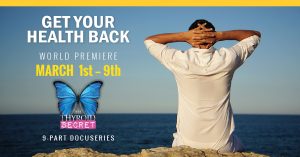 g that many of my clients will benefit from watching.  And it is free.  I find about 30% of the women that I work with for weight loss have a thryoid issue and they don't know it.
I will be co-hosting the Weight-Loss Summit with Dr. Dan Ritchie, CEO of the Functional Aging Institute on April 3 – April 6, 2017.  We interviewed 20 people who have great success helping people

lose weight in many different ways.  I wanted to bring together these different people so you can benefit from hearing them all in one place.  Learn which weight loss program might work for you.  You will hear more about this in the next month.
Learn what you can from these online summits, series and conferences; I know I do.  The best part is, they are free on the days the summits, series or conferences run.  You can always purchase them if you want to be able to go back and watch them again or if you will miss one of the days they are running.
I ask you to be open to exploring these online learning opportunities.  You will gain knowledge from them.  If that knowledge helps you or someone close to you, all the better.
Holly Kouvo is a certified Personal Trainer, Nutrition Specialist, Functional Aging Specialist, speaker and writer.