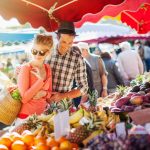 It is the beginning of the summer season; warm weather and fresh produce are becoming abundant. Farmers markets are a great place to go and spend a summer afternoon shopping for farm fresh fruits and vegetables. However, they can be overwhelming with the range of options. By focusing on picking a few key items from the market, you can build a multitude of meals. During this time of year, tomatoes, eggplant, and cucumber are in season and at their peak of freshness. Here are some of the health benefits of these foods.
Tomatoes taste their best when fresh and fully ripened, making them a perfect food to pick up at the farmers market. This versatile fruit contains vitamin C, vitamin K and lycopene (which has antioxidant properties and is beneficial to bone health). Tomatoes are also great for heart health (by lowering total cholesterol, LDL cholesterol, and triglycerides).
Eggplant is known for its striking purple color, but it has a high nutritional value to go along with its outward beauty. Eggplant can support heart health due to the fiber, potassium, vitamin C, and vitamin B-6. Because eggplant contains flavonoids, it is a very heart healthy food. The chlorogenic acid found in eggplant can work to lower cholesterol. The skin of eggplant is especially healthful, containing fiber, magnesium, potassium, and antioxidants.
Cucumber is an extremely hydrating food, being made up of mostly water and electrolytes. It has a high fiber content as well. Cucumber also contains vitamin K which helps with bone strengthening. This light and crunchy food also contains vitamin C, magnesium, and potassium.
By picking up these three food staples from the farmers market, you can make several different meals that showcase fresh fruits and vegetables. Check out these recipes for great ideas using our farmers market picks: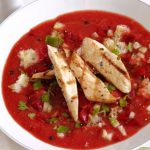 Gazpacho with Lime Chicken showcases the tomato, but also incorporates cucumber and pepper (also a summer season vegetable).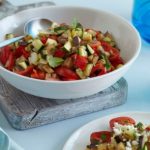 Grilled Vegetable Salad with Feta and Mint utilizes the tomato and eggplant, but also includes other fresh seasonal vegetables like zucchini and bell pepper.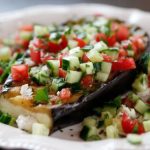 Greek Grilled Eggplant Steaks showcases eggplant's versatility and provides a nice serving of veggies.
Holly Kouvo is a certified Personal Trainer, Nutrition Specialist, Senior Fitness Specialist, speaker and writer. Learn more at www.FittingFitnessIn.com.