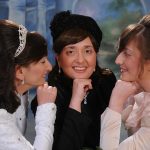 Wedding season is soon upon us and you may be mother of the bride, attending one wedding or many weddings this year.
Whether you're standing in line to catch the bouquet or standing in line at the buffet, keep in mind that you can still have fun without over doing it.  Stay focused on your healthy eating plan and keep the alcohol consumption down.  You don't want to drink all your calories.
As you go down the buffet, keep portion control in mind.  Take small samples of food.  Skip the bread.  Eat Salad, but easy on the dressing.  Stay away from the heavy sauces.  Take small slices of meat.
If it is a sit down dinner, choose your entré wisely.  You can ask for sauce or gravy on the side.  You do not have to eat everything on your plate.  You should be eating the same portion sizes out as you do at home. Remember there will be cake!  The good thing is it will probably be a small piece of cake.
Also, keep moving!  Dancing is a great way to burn off calories and will keep you occupied so you don't eat more.
You should be able to celebrate with the bride and groom and come home feeling like you had a great time without over indulging.
Holly Kouvo is a certified Personal Trainer, Nutrition Specialist, speaker and writer who specializes in helping people lose hundreds of pounds. Learn more at www.FittingFitnessIn.com.
#MotherofBride