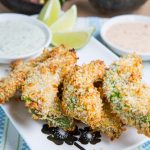 You might be a little surprised to learn that avocados work really well when cooked or baked and they are especially nice in these fries coated with the crispy panko bread crumbs!
Servings: 4
Prep Time: 10 mins
Cook Time: 20 mins
Ingredients:
2 large avocados, sliced
salt, pepper and cayenne to taste
1/2 cup flour
1 egg, lightly beaten
1 cup panko bread crumbs
1/4 cup ranch dressing
1 chipotle chili in adobo, chopped
Preparation:
Season the avocado slices with salt, pepper and cayenne to taste, dredge them in flour, dip them in egg and then panko breadcrumbs. The sodium content depends on the amount of salt you use.  I didn't use salt at all as the breadcrumbs were seasoned with salt.
Place the avocado slices in a single layer on a wire rack on a baking sheet and bake in a preheated 425F oven until golden brown, about 15-20 minutes.
Serve with a mixture of ranch and chipotle dressing.
Nutrition Information 
Servings: 4
Serving size: 3-5 fries
per serving: 354 calories, fat 22g, sodium 250mg, carb 27g, fiber 8g, protein 8g
Recipe from ClosetCooking.com