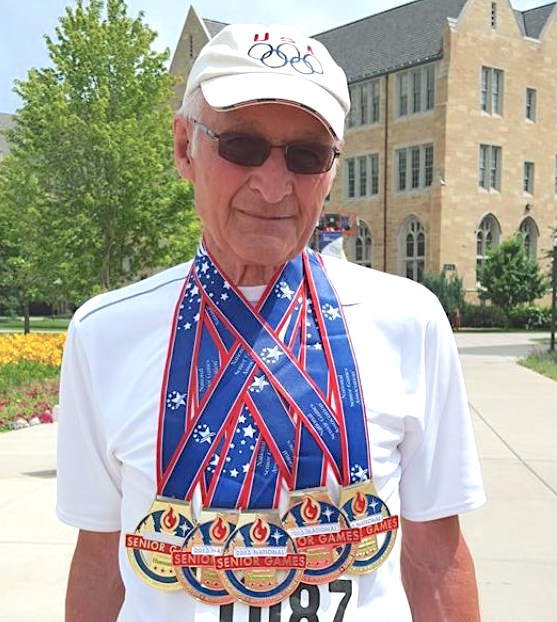 Don Phillips won a slew of medals at the recent National Senior Games.
But the real value of his healthy lifestyle is far more ordinary. It's also what so many people want as they get older:
Functional fitness.
Don, a 91-year-old retired veterinarian, recently drove 250 miles to a school reunion.
He putzes around the yard doing odd jobs, getting what he needs off high shelves (and putting it back). He grocery shops. He rides his bike and jogs.
This fall, he's going on a deer hunt.
How does he manage all this?
Simple: Exercise.
Don lifts weights twice a week. He walks or jogs 2 to 3 miles a few times a week, outdoors or on a treadmill when weather gets bad.
Study Says: Crank It Up
He also has focused on amping up the intensity of his workouts now, since he might not be able to exercise as often as he used to. That makes sense.
A 2017 Mayo Clinic study showed that HIIT (High Intensity Interval Training) can reverse some cellular aspects of aging. It's as simple as increasing the speed of your walk for a minute, then slowing back down to your regular pace… then increasing a bit for a minute, and slowing back down… etc. Studies have shown that HIIT is effective and safe for older people.
"We encourage everyone to exercise regularly, but the take-home message for aging adults that supervised high-intensity training is probably best, because, both metabolically and at the molecular level, it confers the most benefits," says K. Sreekumaran Nair, a Mayo Clinic endocrinologist and senior researcher of the study.
The study gibed with previous research that shows all exercise improves lean body mass, insulin sensitivity, cardiorespiratory health, muscle mass and more. And maintaining strength, endurance and agility is key to performing the tasks of daily living.
His Turning Point
At this spring's National Senior Games in Fort Lauderdale, Don entered 13 events and won eight gold medals in the 90-94 age group. He earlier won five golds at the 2015 event.
"I had never been to a track meet. I had never seen a track meet before the Senior Games," Don said. "I started doing this for health reasons."
Don was 57 when a neighbor returned from a doctor's visit under orders to exercise. The man's knees were shot, he was overweight, diabetic, and generally in poor health.
That made a big impression on Don, who started his fitness journey right then.
He'll turn 92 this summer.
The neighbor? He died at 73.
"Too young," Don said.
Whether you want physical fitness or gold medals, we can help you reach your goals. Let's get moving together!
Holly Kouvo is a personal trainer, functional aging specialist, senior fitness specialist, brain health trainer, writer, and speaker.