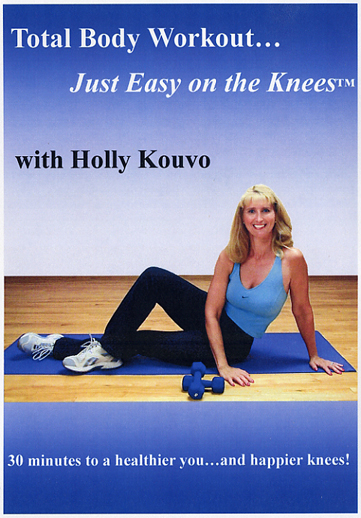 Total Body Workout… Just Easy on the Knees™
Order Now! Only $19.95 plus shipping.
30 Minute to a Healthier You… and Happier Knees!
Finally, there's a total body workout for real people who have bad knees caused by excess weight, age, or recent surgery. With personal trainer Holly Kouvo, you'll get back in shape…while protecting one of the most vulnerable areas of the human body—your knees!
Perfect for people on the go, this fun, easy-to-follow exercise regimen will fit into your busy life. Follow the workout three times a week, and you'll see and feel results fast. You don't need any special equipment or outfits. Just pop the CD in your DVD player, wear comfortable clothes, and get ready to reclaim your body! Plus, you'll receive a bonus feature: a trailer of Holly's next DVD, which is another chapter in her Just Easy™ series.
Owner of Fitting Fitness In, Holly Kouvo is a certified personal trainer and aerobics instructor through the Aerobics and Fitness Association of America (AFAA). To learn more about Holly's background, read her bio.
Click here to view a demo of Holly's Easy on the Knees DVD.
Details