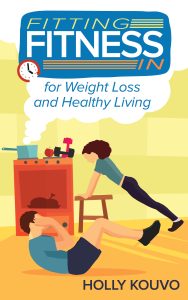 FIND A UNIQUE BALANCE BETWEEN NUTRITION AND FITNESS THAT FITS YOUR LIFESTYLE!
Fitting Fitness In for Weight Loss and Healthy Living can help you to start a journey towards overall wellness by learning how to set measurable goals, stay motivated, make healthy food choices, and find a fitness program that works for you.
Readers will learn how to Fit Fitness Into their busy lives and feel the benefits of accomplishing that. They will learn "Helpful Holly Hints" on how to fit exercise into their day (one set at a time) from doing squats while brushing your teeth, push-ups on the counter while waiting for the microwave or bicep curls with a gallon of milk at the grocery store.
Every little bit helps to get in shape and feel energized.
HOLLY KOUVO is a certified personal trainer with decades of experience helping clients, corporations, groups, and families learn to be healthier.
Cost: $11.95 plus shipping & handling
Purchase Book!