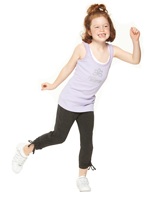 Fitting Fitness In™ is excited to offer Junior Jazzercise. It is a perfect program to get kids active and learn the importance of exercise and health. These classes for kids combine fun, easy-to-follow dance moves to popular music, fitness games, and light strength training. The non-competitive atmosphere is the perfect setting to introduce your child to fitness. Children are not required to have any dance experience.
Kid's dance classes Available for children ages 5-11 years old. Each hour long class consists of an exercise aerobics segment, a game segment focusing on exercise and nutrition, and a dance segment to basic choreography.
Junior Jazzercise has been in the business of keeping kids fit for over 40 years! It is a fun, energetic, cardio and strength training dance fitness program for boys and girls of all ages. The students will have the opportunity to dance to age appropriate and varied music including pop, Latin, country, techno, hip hop, and varied dance and fitness training movement including jazz, hip hop, kick boxing, yoga, and pilates. The class is taught in a non-competitive atmosphere with the core focus on movement and fitness rather than perfection. We also play some fun, active, movement intense games.
Session Dates
Session 1: Tuesdays 4:15 – 5:15pm Jan 28th – Mar 11th (No class Feb 18th)
Six week session cost is $95. Registration is required, space is limited.
Where
Fitting Fitness In Studio, 629 Massachusetts Ave. (RT 111), Boxborough, MA
Bring Water Bottle
Click here to go back to the Fitting Fitness In class calendar!
Details
Please call Denise Haynes to register 978-263-5979 or email at denise_haynes@verizon.net