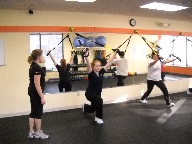 TRX Suspension Training exercises combine functional training, cardiorespiratory, and core stability in which a variety of multi-planar, compound exercise movements can be performed. These are done with the aim of developing strength, endurance, balance, flexibility, and joint stability simultaneously. Among one of the many benefits about the TRX® is that regardless of your conditioning level, the exercises can be performed at the intensity you choose.
Sessions
In this class you will learn the basics of using the TRX® Suspension Trainer. The workout will build total body power and strength. Each exercise is executed for 30-45 seconds before moving on to the next.
Evenings, 6 weeks, 1x/week
Session 1: Jan 23 – Mar 6 (no class 2/27)    Thurs, 7:00 – 8:00pm
Session 2: Mar 13 – Apr 17  Thurs, 7:00-8:00pm
Session 3: May 1 – Jun 5  Thurs, 7:00-8:00pm
Where
Fitting Fitness In Studio, 629 Massachusetts Ave. (RT 111), Boxborough, MA
Click here to go back to the Fitting Fitness In class calendar!
Details
SKU SKU2662
Price: $90.00
Options