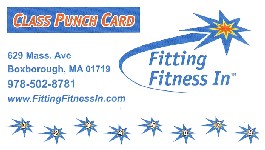 Need flexibility? Can't make every class in a session? Want to try out a few different classes before deciding? This class card gives you that flexibility. Each card is good for 8 classes of your choice.
Valid for These Classes
Boot Camp
Fusion Fitness
TRX
Click here to go back to the Fitting Fitness In class calendar!
Details
SKU SKU2142
Price: $144.00
Options