Slightly over three years ago, I was sick and tired of being sick and tired. In early December, I heard a radio show host announce, to a personal trainer who did a show with him, that as an affirmed "couch potato", he was going to chronicle his journey back to health on the radio show, as he worked with this particular trainer. I thought that if he can do this than I can too, and called the studio the trainer was involved with, setting a date for the end of January. I was having major abdominal surgery the second week of January.
This was the beginning of my "lost 100" journey. My mother, who has since passed away, and never got to see the results of this journey, took her family on a Caribbean cruise that December. While on that cruise I saw a number of gorgeous beautiful bodies. Mine was hidden, as always, under a wrap or cover up, etc. My self esteem, self concept, and courage were lower than "in my boots". Way lower. I vowed on that voyage that I would come back someday, on a cruise, with a brand new body, that I defined, both inside and out.
I met Ernie, owner of All Canadian Fitness (ACF)in Hamilton, Ontario and Adam Higson, now a newly retired professional Muay Thai Boxer, (and very accomplished at it as well) in January, 4 weeks after my first surgery. As an RN I do not recommend this for anyone. Ernie tells me now that he was actually afraid of me for the first few sessions because I was so out of shape and so new post surgery. Oh I also just had one of two carpal tunnel surgeries too! He really didn't know what he was going to do with me. He reminds me frequently today of what I was like! I worked with Ernie until August and then Adam became my trainer. Ernie is part of the "Be Better Project", a number of personal trainers from all over North America working with Phil Kaplan. Holly worked in this project as well. Once or twice things would stall. Advice would come from "the group" and off we went. Adam had particularly great workouts, the inches were coming off great but the weight was not changing as fast as I would like.
It was thought I could benefit from Holly's expertise 1 1/2 years into my "lost 100″ journey. (Originally the plan was to take one year total.). Frustration had set in. I began a long distance relationship with Holly at Fitting Fitness In (FFI). Holly and I would call each other once a week and sometimes once every two weeks. She provided advice on: steps, oh yes the famous steps; nutrition (food journals uggg…"if you log it you lose it". Is that familiar to anyone? It should be!; staying active in between the strength and weight training personal sessions; varying the activities between; as well as additional confidence and reassurance building. I even made the trek to Stow in May for the "Run/Walk for the Woods" that FFI sponsored. I was the only Canadian there! It was a long drive alone, across New York State, from Brantford, Ontario, longer than I had expected. My husband joked that it was a long drive to walk 5 km. What fabulous hosts she and her family were!
Holly broke the main goal down into mini (more user friendly attainable) goals: for a week; or for a month and challenged me to meet these. Adam, Holly and I worked as a Team. This threesome worked successfully across provinces, states and an international border, together for just over a year with Holly coming to Hamilton giving a talk to ACF clients this past Spring.
Holly is gifted in inspiring clients to carry on; one small mistake does not mean that you cannot carry on, and move forward. She and Adam have instilled in me a love of staying active forever. As Adam is fond of saying, "You're hooked now!" I could not have achieved the "lost 100" on Dec 17, 2010 without the gifted people around me who support me every day; who show me that I can do this; who believe in me when I don't believe in myself; who buck me up when I need that and who encourage me when that is my need; and who sometimes know me better than I know myself. Slowly I am learning to educate my mind to a strong mind, because it really is mind over matter. (Thank you Adam). I could never have accomplished this without my whole Team. Without my Team who adapt programs to meet my many surgeries: two carpal tunnel surgeries; two knee arthroscopies and a left ulnar nerve surgery. What patience you have!
I am determined that the "lost 100″ will not come back. Over the Christmas holiday time I finally allowed myself to begin to look for a dress for my son's wedding, July 2nd. One day both Elizabeth and Cole came, and they picked out a dress that I always wanted to wear but would not dare try or allow myself to dream of. I tried it on, thinking I was just humoring them. It fit like a glove. WOW! I was floored! Cole even said I might outshine the bride, (tongue in cheek I'm sure). Well (sigh) we ended up ordering it from, New York, a Jovani gown. Cole said, "Mom you wanted to wow; the dresses you were looking at were all the same that you always choose, or slight variations of. This one is wow! Now is your chance." They chose it. I love it! So I am wearing it. I only worry that it might be too much! But, if they like it then I am okay with it! I cannot allow any deviation from the weight I am at now. In fact, if I lose more it will be better. So…?? The next goal, with Adam's help, is to look good in this mermaid, sort of, dress for July 2nd now! Ever a goal…best to keep it that way (goal oriented-TKS Holly) for me I think! I am keeping myself constantly challenged. If I can do this you can as well. Thank you again to a dedicated, caring, professional, extremely knowledgeable and adaptable Team.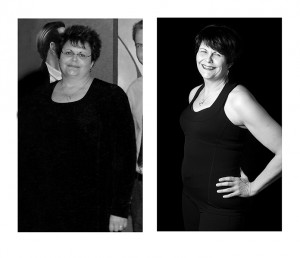 P.S. I learned (am learning) a number of new skills that I may not have ever tried: boxing (my fav-best adrenaline rush/release); water running; weight training; rope swinging; beating tractor tires with sledge hammers; you name it-we do it!
Decide, Commit, Believe, Succeed."
-Hugs, Shel