Do you want to…
Be healthier? Lose inches? Have more energy? Feel good about the way you look? Learn how to fit exercise into your busy life?
You've come to the right place.
Holly is co-hosting the Weight Loss Summit on April 3rd – 7th.  The Weight Loss Summit is a FREE online event that brings some of the world's leading health and fitness experts straight to you.  You will get practical, hard-hitting, innovative advice on how to lose weight and improve all areas of your life.The tips and strategies shared by these leaders can be put to use immediately so you can lose weight and start living your best life ever.
Register for Weight Loss Summit April 3-7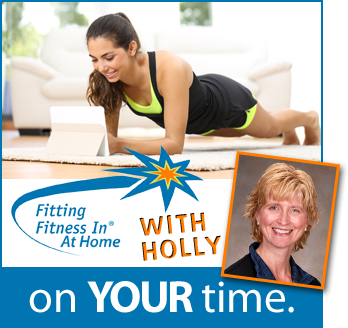 Fitting Fitness In can help you to start a journey towards overall wellness by learning how to set measurable goals, stay motivated, make healthy food choices, and find a fitness program that works for you.
We will work with you to create a customized fitness and nutrition program that fits your unique lifestyle. Whether you are an active senior, a busy traveler, a mom with young kids, we can help you set your goals and stay accountable.
Holly Kouvo is a certified personal trainer with decades of experience helping clients, groups, corporations, and families to learn to be healthier. Holly's approach is simple: find a unique balance between nutrition and fitness that fits your lifestyle.